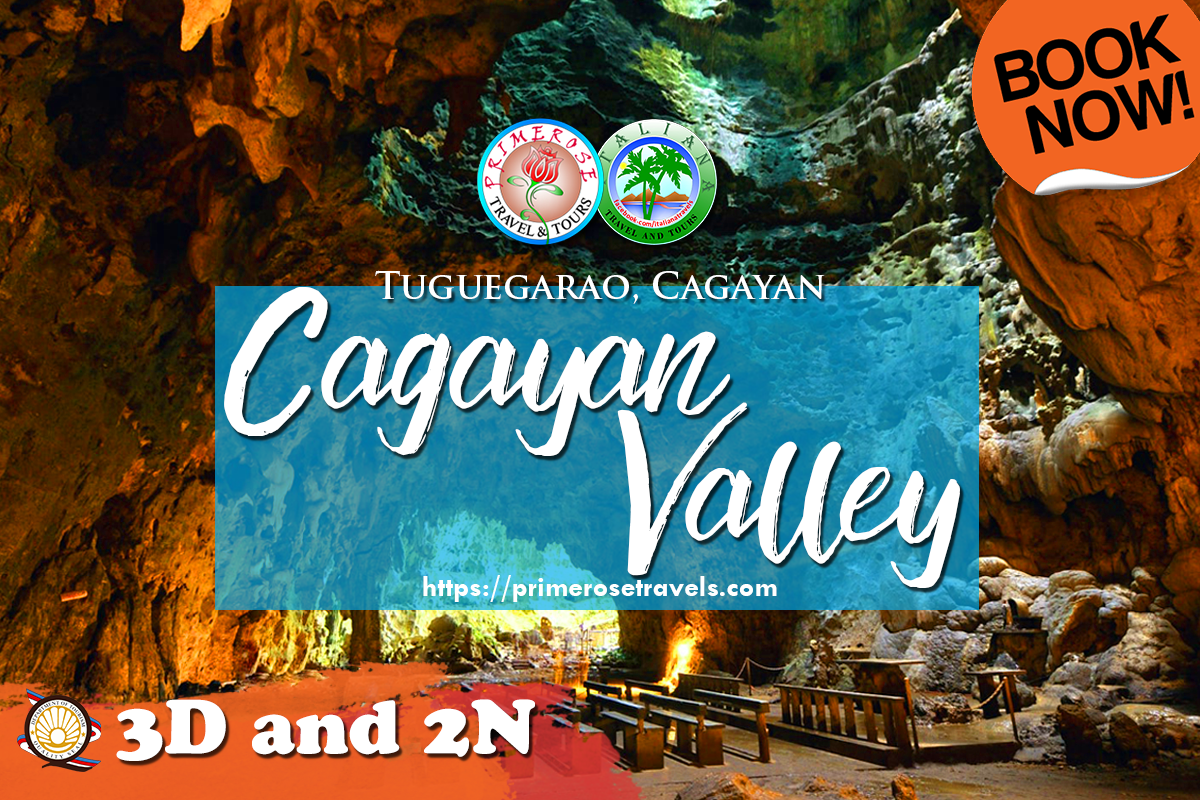 CAGAYAN VALLEY TOUR PACKAGE
3 Days & 2 Nights
CONTACT US!
Mobile       : (SUN) 09428206515 / (SMART) 09988696338 / (GLOBE) 09778154707 / (GLOBE) 09162561122
Email         : info.primetravelz@gmail.com
Facebook  : https://www.facebook.com/Primerosetravels
Joiner Tour Package
• For those who like to join with other groups and tour schedules are set every Saturday and Sunday for 2 days and 1 night and every Friday to Sunday for 3 days and 2 nights.
Private or Exclusive Tour
• Private or Exclusive Tour(s) with a minimum passenger of twelve (12) persons per van can be set anytime as preferred.
• For additional and special discounts kindly send us the final headcount and we will send you the revised quotation.
Please send us your inquiry at our FB page at www.facebook.com/italianatravels or email us at italianatravels@gmail.com.
Kindly indicate your name, destinations, number of person joining, preferred travel dates and contact number.
Package Inclusions:
Round Trip Van Transfer (Manila – Cagayan – Manila)
3 days & 2 nights Hotel Accommodation
Entrance Fees
Boat Fees for Island Hopping
Environmental Fees
Tour Guide
Tour Coordinator
Complimentary Bottled Water
Tour around Cagayan
Package Exclusions:
Meals
Island Hopping Activities (banana boat, kayak, jet boat, etc.) personal account
All other expenses not included in the package
Sites to Visit:
Our Lady of Piat Church
Callao Cave
Magapit Suspension Bridge
Buntun Bridge
Iguig Calvary Hills

Palaui Island
Anguib Beach
Cape Engano Lighthouse
Crocodile Island
Punta Verde

Cagayan Heritage Churches
Note: Rest assured that all inclusions as enumerated above will be provided with NO HIDDEN CHARGES.
We have coordinated with the friendliest, reliable and accommodating people to make sure that your visit to CAGAYAN VALLEY will be safe, relaxing and a memorable experience for your family and friends. We are the first and only travel agency to include this in tour packages.
SAMPLE ITINERARY
Day 00

09:00
– Departure Time – SM MOA open parking between the Buildings of Telstra, SM Hypermarket, EXL and KFC

Day 01 – CAGAYAN TOUR

6:00 am
– Arrival Time – Cagayan/Breakfast

– Start of Tour
Callao Cave
Our Lady of the Piat
Buntun Bridge

2:00 pm
– Check in @ Tuguegarao, Cagayan Hotel
05:00 pm
– Hotel/REST/FREE TIME

Day 02 – Sta. Ana Tour

6:00 am
– Departure/Check out @ Tuguegarao, Cagayan
09:00 am
am – Arrival – Sta. Ana/Check in @ Sta Ana Hotel Island Hopping
04:00 pm
– Hotel/REST/FREE TIME
04:00 pm
– Back to HOTEL/Rest/Free Time

Day 03

6:00 am
– Departure/Check out @ Sta. Ana, Cagayan
Magapit Suspension Bridge
Iguig Calvary
Cagayan Heritage Churches if along the way
Please take note that the itinerary will depend on the time management and cooperation of the group.