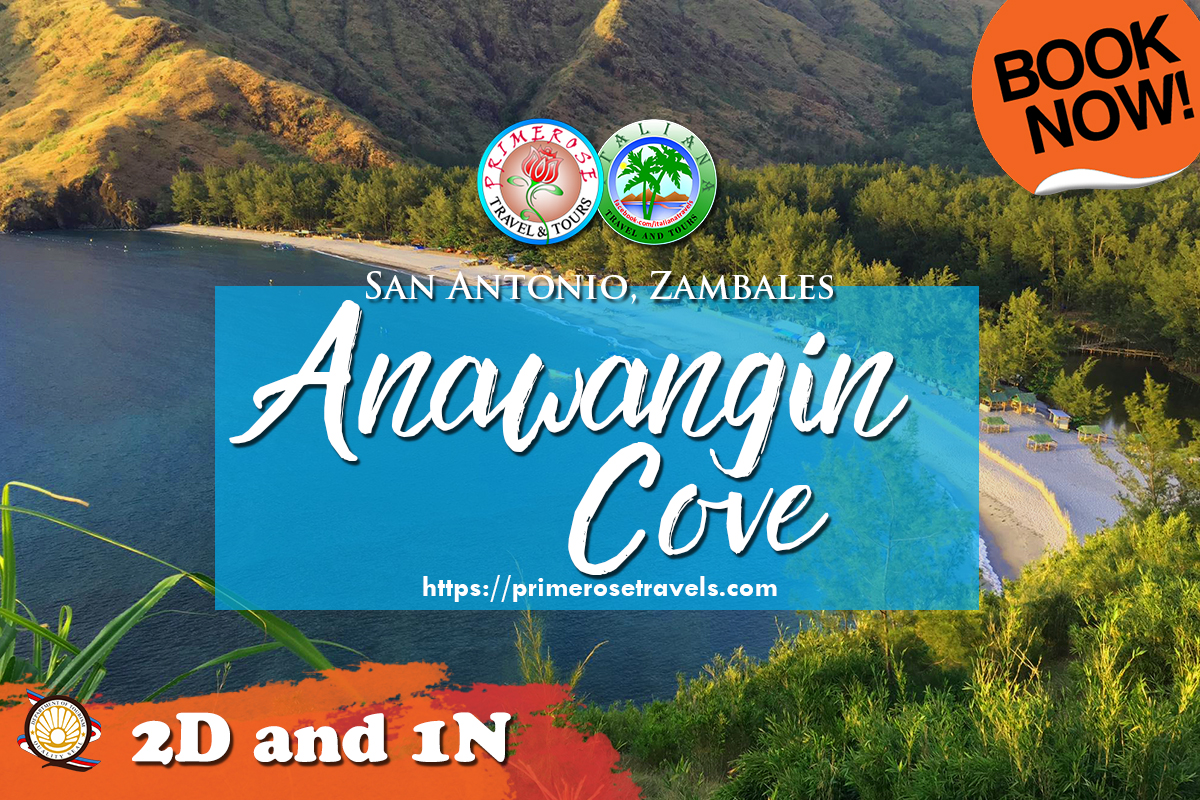 ANAWANGIN COVE TOUR PACKAGE
2 Days & 1 Night
CONTACT US!
Mobile       : (SUN) 09428206515 / (SMART) 09988696338 / (GLOBE) 09778154707 / (GLOBE) 09162561122
Email         : info.primetravelz@gmail.com
Facebook  : https://www.facebook.com/Primerosetravels
Joiner Tour Package
• For those who like to join with other groups and tour schedule are set every Saturday and Sunday for 2 days and 1 night and every Friday to Sunday for 3 days and 2 nights.
Private or Exclusive Tour
• Private or Exclusive Tour(s) with a minimum passenger of twelve (12) persons per van can be set anytime as preferred.
• For additional and special discounts kindly send us the final headcount and we will send you the revised quotation.
Package Inclusions:
a) With PASSENGER PERSONAL ACCIDENT INSURANCE BENEFIT every time you avail any of our amazing tour packages
b) Round Trip Van Transfer from (Manila- Zambales – Manila)
c) Round Trip Boat Transfer to Anawangin and vice versa
e) Sightseeing to Camara Island
q) Cook for the group if you avail tour package with meals
r) Free use of camp tables and chairs
s) Two (2) containers of Distilled Water
t) Free transport service to Puregold Duty Free (i.e. drop buy only)
***Island Hopping activities snorkeling in Capones Island***
OPTIONAL– Additional cost of Php350.00 per person will be charged for tour package with meals (Day 1 – lunch & dinner and Day 2 –breakfast & lunch)
Package Inclusions:
Island Hopping Activities on personal account
All other expenses not mentioned in the inclusions
Note: Rest assured that all inclusions as enumerated above will be provided with NO HIDDEN CHARGES.
We have coordinated with the friendliest, reliable and accommodating people to make sure that your visit to ANAWANGIN COVE will be safe, relaxing and a memorable experience for your family and friends. Also, you can enjoy luxury and comfort with our brand new Nissan NV 350 vehicles (high roof) in partnership with LRJN Tourist Transport Service duly franchise with LTFRB and Accreditation with Department of Tourism.

SAMPLE ITINERARY
Day 1

12:30 mn
– Assembly (Mcdonald's Quezon Ave., corner EDSA
near MRT Station in front of CENTRIS Hotel)
1:00 am
– Departure from Manila
4:00 am
– Stop Over Subic
4:30 am
– Departure from Subic
6:00 am
– Arrival- San Antonio Market, Zambales (Buy Food etc.)
7:00 am
– Arrival-Brgy. Pundakit
7:30 am
– Island Hopping (Capones Island to Anawangin)
11:00 am
– Arrival Anawangin (Swimming, Free time, Lunch Time, Overnight stay)

Day 2

FREE TIME

12:00 pm
– Departure from Anawangin
1:00 pm
– Departure from Pundakit
3:30 pm
– Stop Over – Royal Subic Duty Free (1 Hour)
4:30 pm
– Departure from Subic
8:00 pm
– Arrival Time Manila
Please take note that the itinerary will depend on the time management and cooperation of the group.